There comes a time when you realise living at home just doesn't work for you anymore. Whether you're about to turn 18 and crave independence from your parents, or if you've moved back home and are now ready for a place of your own, there's just one tiny detail that you'll need to take care of first…the cost!
As one of Nottingham's leading estate agents, we want you to have the best experience possible especially as a first-time renter or buyer. 
The following guide on how much does it cost to move out will cover everything you need to know.
Psssst: If you already know what's involved and you're itching to move out, simply skip to the end of this post to speak to one of our friendly lettings team.
Rent Or Mortgage
The average monthly rent in the UK has skyrocketed to £1,007 as of June 2021. The average mortgage payment is slightly less, coming in at £723.
Either way, when you compare that against the average UK salary of £31,461 a year, that doesn't leave a lot of spare change especially when all your other expenses have been paid. In addition, entry-level roles will pay much less than the UK average with typical rates of pay between £17,000 and £25,000. 
There are some ways you can reduce the cost of your rent or mortgage. This includes:
Move out with a friend or partner and split the costs
Choose a smaller property
Avoid expensive neighbourhoods
Consult an estate agent or lettings agent on your budget
Remember, when purchasing a property if you're a first-time buyer or self-employed, you'll likely be asked to put down a 20% deposit rather than the standard 10%. The only exception would be if you're on the help to buy scheme, which is 5% of the total price of the property at the time of writing. 
Or if renting, you'll be asked to put down a deposit that is usually equal to 1 months' rent.
Utilities
When renting, it is sometimes the case that the cost of bills is included within your rent. However, most of the time you'll need to arrange and pay for your bills separately.
Here are the utilities you'll need to cover, along with the UK average bill for each utility type.
A top tip here is to shop around on comparison websites before signing up to a particular supplier. You should also regularly check you are on the lowest tariffs, which may require you to switch suppliers. By installing smart meters, and making your home energy efficient (if buying), you can also reduce your energy bills.
Council Tax
Council tax pays for everything from street cleaning to refuse collection, and all UK residents above the age of 18 are required to pay it unless exempt. Typically, council tax is paid 10 months of the year from April to January each year.
The cost of council tax is calculated as a band depending on where you live and your individual property. Band A is the cheapest, with Band H being the most expensive.
In Nottingham, council tax bands are as follows for 2021/22 (keeping in mind council tax rates usually rise each year across the country):
If we assume that you'll be moving into a starter home in Nottingham that's classed as Band A, this means you'll be required to pay £148.38 for 10 months of the year.
Food Bill
The average person spends £175 per month on food. Those who have already learned how to cook will generally fare better than those who haven't, especially when you compare the cost of a takeaway versus cooking from scratch.
If you want to cut costs where food is concerned, apart from deleting those pesky takeaway apps, meal prepping will allow you to fill your freezer for less, avoiding food waste in the process.
It's also wise to research the supermarkets closest to the property you wish to purchase or rent, seen as this will dictate how much you spend on food, especially on the everyday essentials. A recent survey found that Aldi is the cheapest supermarket in the UK, closely followed by Lidl and Asda.
Furniture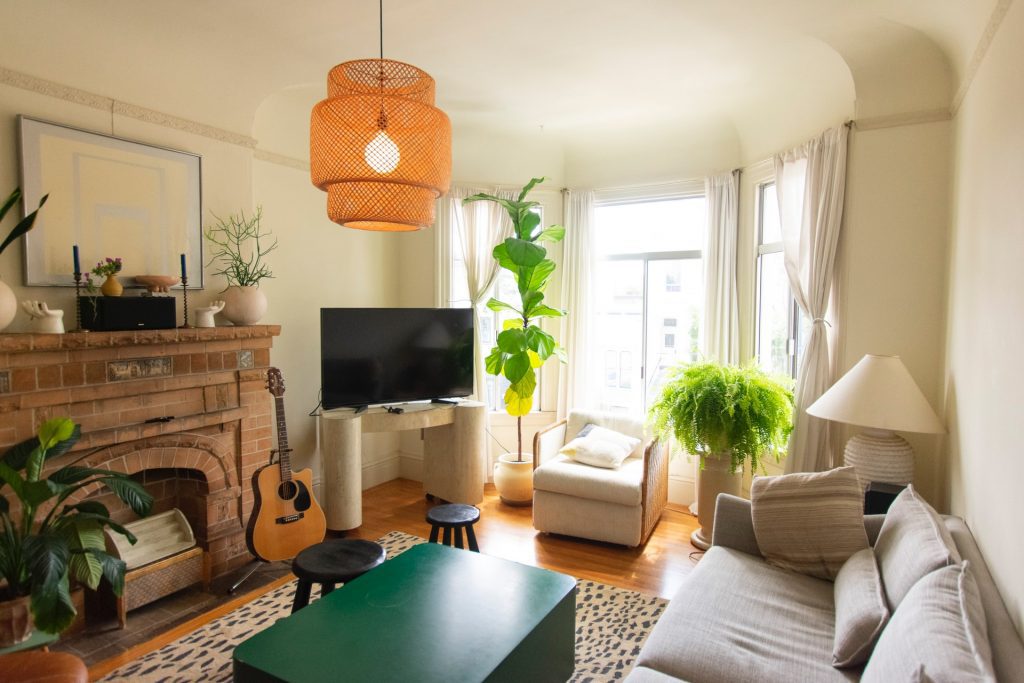 When renting, the property description will either state the property is furnished or unfurnished. As the name suggests, unfurnished properties will require you to purchase items such as sofas, beds, desks, chairs etc. Likewise, if buying a home then the furniture will not be supplied unless you agree otherwise with the seller.
Purchasing your own furniture will make the property feel more like yours, and allow you to customise the look of the place. There's plenty of retailers in which you can buy furniture for less (we're thinking of a particular Swedish retailer known for their flatpack furniture and oddly their meatballs). However, consider that cheaper pieces may not offer longevity, which may cost you more in the long run versus buying quality, well-made pieces. 
For a 3 bedroom home, here is an example of what you may need to purchase:
2 double beds + mattresses – £1,200
1 single bed + mattress – £300
Bedding/duvets/pillows – £180
4 x kitchen chairs – £200
12 x Kitchen utensils/tableware – £100
This list isn't exhaustive, as it very much depends on what you're able to bring across to the new property. For example, some people will already own appliances and furniture. But, if you're moving out of home for the first time this may not be the case. So, now is the time to start making a list!
Either way, you cannot skip the essentials especially if buying or renting an unfurnished property.
Insurance
If purchasing a home, you'll need various insurance policies to protect the building itself as well as your contents. Granted, insurance isn't the most thrilling topic and can put a bit of a downer on your grand plans to move out. However, without it, you leave yourself vulnerable to financial ruin and even homelessness should a number of scenarios happen to you.
Home insurance policies to consider include:
Public liability insurance
Buildings & contents insurance
Accidental damage cover
Legal expenses cover
Legal/Administration Costs
Whether purchasing or renting, at the very minimum you should expect to pay administration costs to those processing your application.
When purchasing a property, the costs are steeper as you'll need to pay various legal fees, such as:
Mortgage application fees – £0 – £1,500
Valuation fees – £0 – £700
Conveyancing fees – £700 – £900
Removal costs £1,000 – £2,000
Renovation
Homes that require a bit of TLC tend to be cheaper to purchase, attracting first time buyers and investors alike. All of which comes at a cost depending on the scope of work required to bring the property up to standard.
If you're looking to purchase your first home with a view of selling it in a few years, then renovating is one of the best ways to maximise your ROI. Always research the average property prices in the area, to ensure your plans will truly pay off financially.
Extending or adding extra bedrooms are the most valuable ways to boost your property price, but can cost tens of thousands of pounds to complete.
Maintenance Costs
Another cost for buyers rather than renters to consider is the upkeep of the property. Tasks include general cleaning, deep cleaning, carpet cleaning, upholstery cleaning, window cleaning, gutter cleaning, driveway cleaning, drain cleaning, roofing checks, painting, replacing old double glazing, rendering, landscaping, periodic gas/electric inspections etc.
Essentially, all areas of the property need to be regularly maintained to ensure both the safety and comfort of those living in the property.
Estate Agents Nottingham
Do you need further help or advice on anything we've mentioned above? Here at Fairview estates, we provide dedicated professional estate and letting agent services to our clients across the Nottingham area. 
With a huge range of local knowledge and property expertise to match, we'd be more than happy to help guide you with your rental property search across Nottingham.
Give us a call on 0115 958 7791 to speak to our friendly team. Below are a few areas that we cover, just click your area and call our number!